Blog
Best Aviation Products Announces Partner, Straight and Level Inks deal with RARA.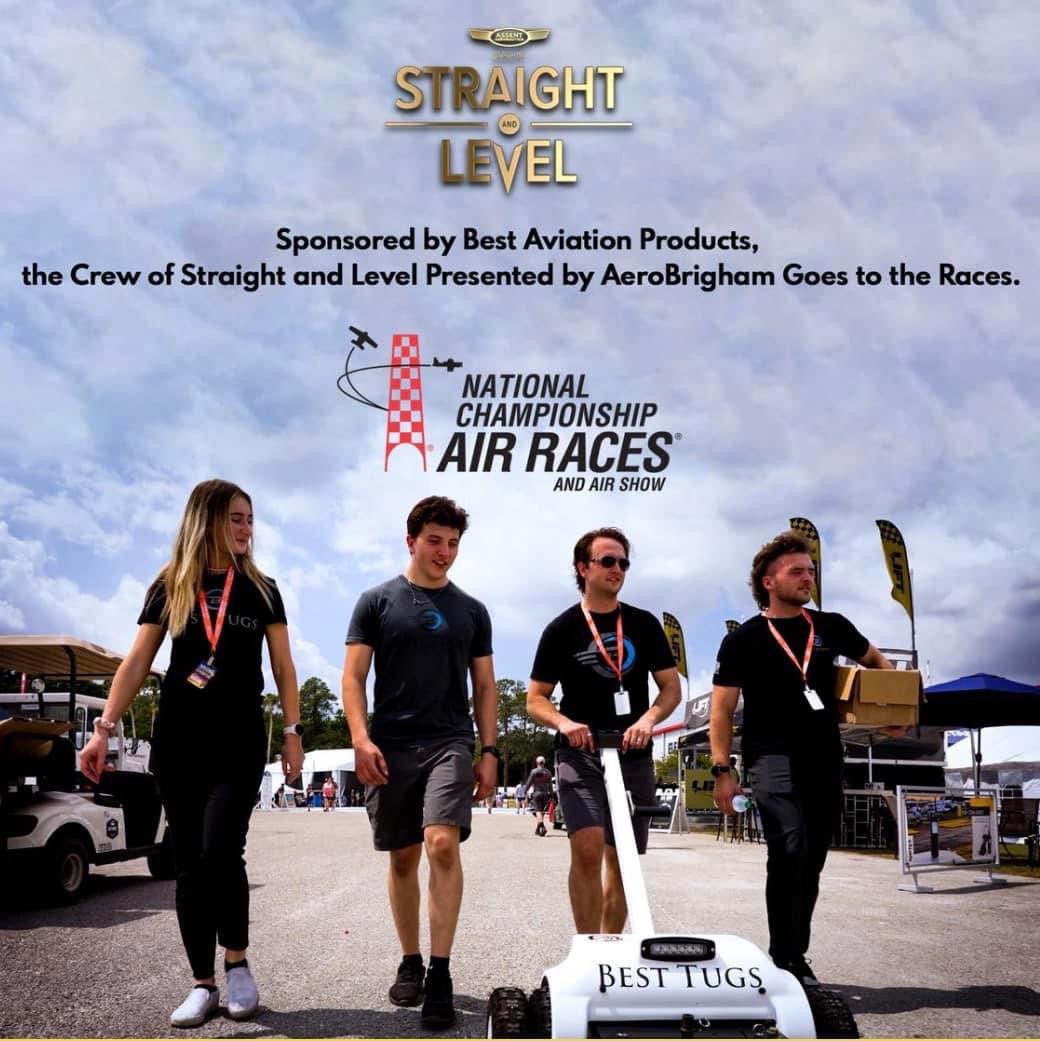 Press Release
For Immediate Release
July 24, 2023
Spanish Fork, UT: Best Aviation Products, the world-renowned producer of Best Tugs, is pleased to announce that Straight and Level Presented by AeroBrigham, the most watched aviation lifestyle television program that they sponsor, has entered into a multi-year partnership with the Reno Air Race Association (RARA) to produce and air the last National Championship Air Race to be held in Reno Nevada as a series of special episodes of Straight and Level on Amazon Prime Video. The first flagship production series from V1 Productions, the Straight and Level series showcases the inside stories of the aviation industry including world-renowned airshow performers, leading manufacturers, military might and legend, as well as business aviation industry icons.
Since 1964, the National Championship Air Races have captured the attention of not only the aviation community and enthusiasts, but also adrenaline-seeking racing fans around the world. The world's fastest motorsport event will close the final chapter in Reno-Tahoe this September, before moving to a new location in 2025.  As part of Straight and Level Season 3, the episodes will begin with never-before-seen footage from the 2022 Stihl National Championship Air Races across three specials to air later this summer and will continue beyond this event's final year at the Reno-Stead Airport for 2023 to the yet-to-be-announced venue for 2025. 
"As a sponsor of the Straight and Level series these past three seasons, we are ecstatic that they will be producing and airing a world-class event like the National Championship Air Races in its entirety. My brother, Mike, and I have such a respect for the 150 teams that push the limits of design and speed and knowing that these will be the final races held in Reno, there's no better production company to capture the intensity, precision, and skill than the crew at Straight and Level and their inner-circle of partners fondly referred to as the #V1Mafia." said Mark Patey, Co-Owner of Best Aviation Products. 
The Straight and Level crew will be onsite with a full complement and a complete production compound constituted by multiple owned and operated tractor-trailers including two live production units, hospitality transporter, and camera truck housing thirty plus (30+) cameras allowing us to bring the audience to the edge of their seats when watching the multiple heats across seven classes of racing. The five-day event culminates with the best-of-the-best competing for their classes' bragging rights as champion for the next year. 
"It is an honor to showcase the fastest motorsports event in the world and to capture the emotional highs and lows of the participating teams. Due in part to the support of our sponsors like Best Aviation Products, we have developed years of experience capturing high octane aviation-based programming; to steady our lens on the legendary men and women who will race one last time at this historical site, the final Reno Air Race." says W. Hulsey Smith, V1 Productions Executive Producer of the Straight and Level series.
For more Information
Carol Cali
Director of Communications
V1 Productions
About Best Aviation Products:
Best Aviation Products brings you a polished approach to aviation enablement. We are dominating the market with our renown tug line known as Best Tugs, power products by Best Power, and quality cleaning through Best Scrubbers. We are proud to serve you and your aircraft. FMI: BestTugs.com 
About Straight and Level:
The Straight and Level series explores 21st Century Aviation Technology and the positive affect aviation has on humanity. From flight training to historic aircraft to aviation education and supersonic flight, the Straight and Level team is focused on bringing aviation centric humanistic stories to life. In its third series, Straight and Level is delivered via Amazon Prime. The series is one of the many projects delivered byV1 Productions. FMI: StraightAndLevel.TV; follow: @straightandlevelofficial; and Amazon Prime Video - Straight and Level. 
About V1 Productions:
V1 Productions is a premiere full-service media house that has built a reputation for delivering compelling, humanistic stories through its unscripted and live productions as well as breathtaking cinematography. V1 steadies its lens on real stories that emote the humanistic and truth atoms that inspire. Its flagship three-season docuseries, Straight and Level, currently on Amazon Prime Video, is the most-watched aviation-based lifestyle program in the 21st Century and reignites the wonder of flight by chronicling some of the greatest aviators of this generation. V1 Founder and Executive Producer, W. Hulsey Smith was recognized with a 2022 Business Aviation Top 40 Under 40 Award from the National Business Aviation Association for his personal contributions to the growth of the aviation industry through his business acumen and passionate work of capturing the golden age of aviation on-screen. Based in Texas with locations in Dallas and Fort Worth, V1 has projects currently underdevelopment and in production across multiple genres.   FMI: V1.live; follow @V1Mafia on Instagram.