Blog
STOL Drag at the Reno Air Races Highlights
It was a frenzied Friday as STOL Drag Pilots transported their aircraft from all corners of the country to Reno Stead Airport to participate in what, sadly, marks the end of an era – the final Reno Air Races; concluding a remarkable 60-year legacy.
STOL Drag, a relatively recent addition to the Air Races, made its debut in 2019 at this iconic event.
The STOL Drag race planes faced a noon deadline to be positioned on the ramp, with pilot check-ins concluding at 5pm. The atmosphere around the RARA hangar (Reno Air Race Association) was buzzing, with competitors already engaging in friendly banter,
By Saturday, STOL Drag racers and their crews were busy setting up their campsites and fine-tuning their aircraft in preparation for the event's first official briefing.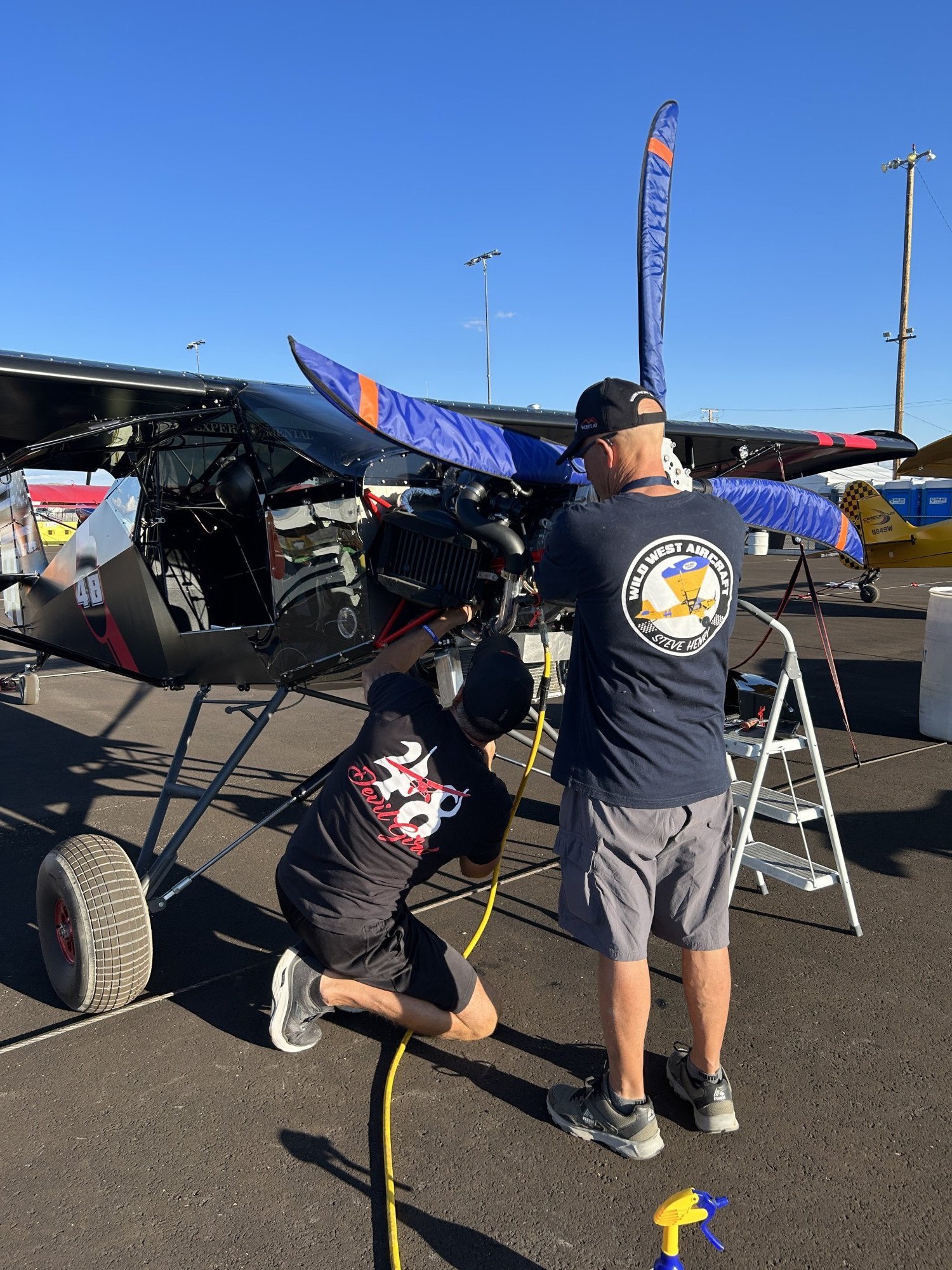 Steve Henry helps Eddie Sanches dial in his airplane for the first practice runs of the event.
STOL Drag founder Kevin Quinn and the STOL Drag Staff discussed logistics and voted on any necessary rule adjustments or new procedures. Pilot Representative Eddie Sanches led the discussion.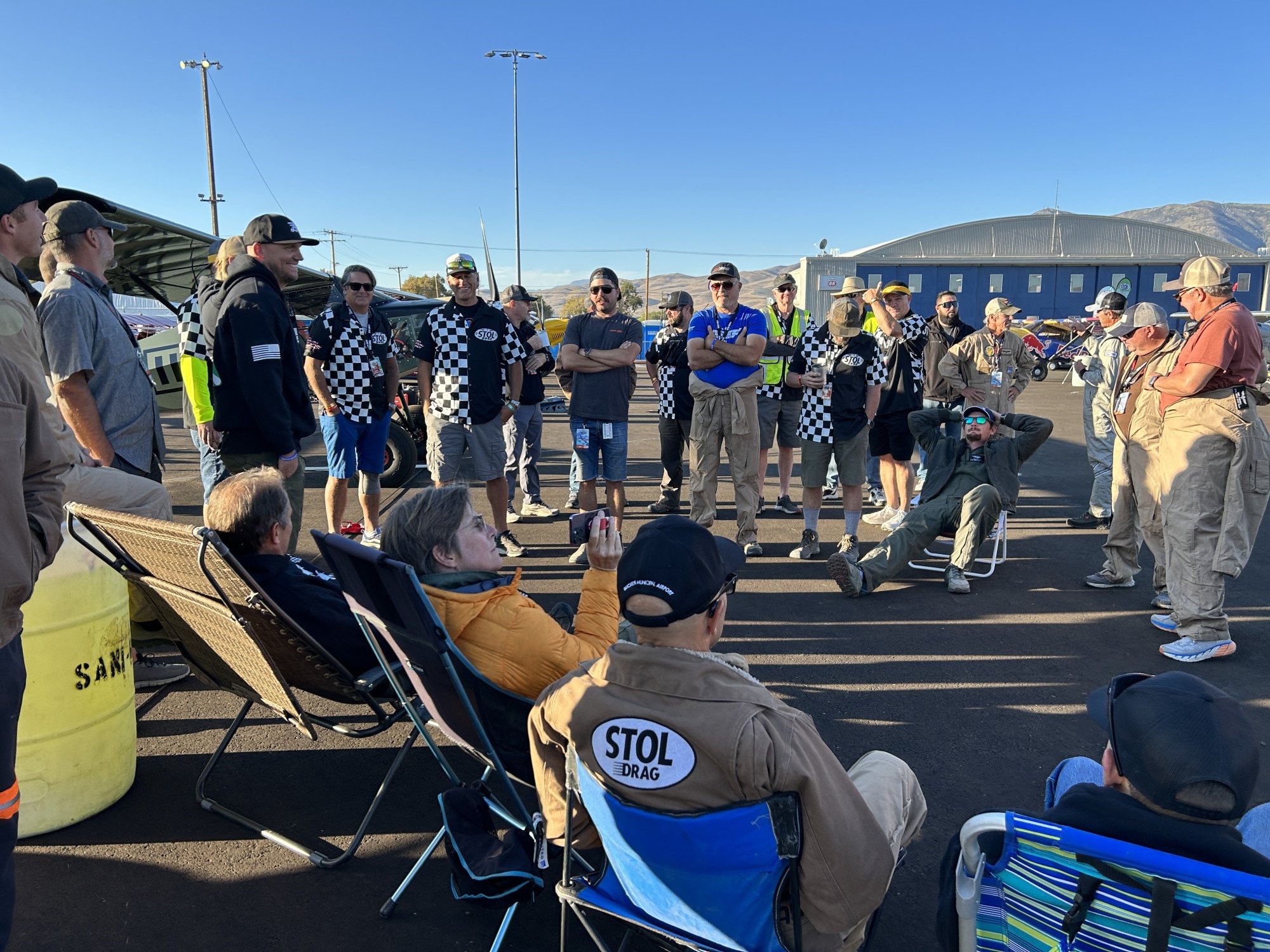 STOL Drag Briefing in the pits at Reno Air Races
The rules for STOL Drag Racing are straightforward.
Competitors take off down the 2,000-foot course, accelerating sufficiently but not excessively to land at the halfway point, come to a complete stop, execute a 180-degree pivot, and then take off again toward the original starting line. The pilot with the best time, without scratching the designated line, emerges as the victor!
STOL Drag Practice Begins
The course was primed and ready as 22 of the world's favorite STOL Drag pilots taxied to the start/finish line for the initial days of practice.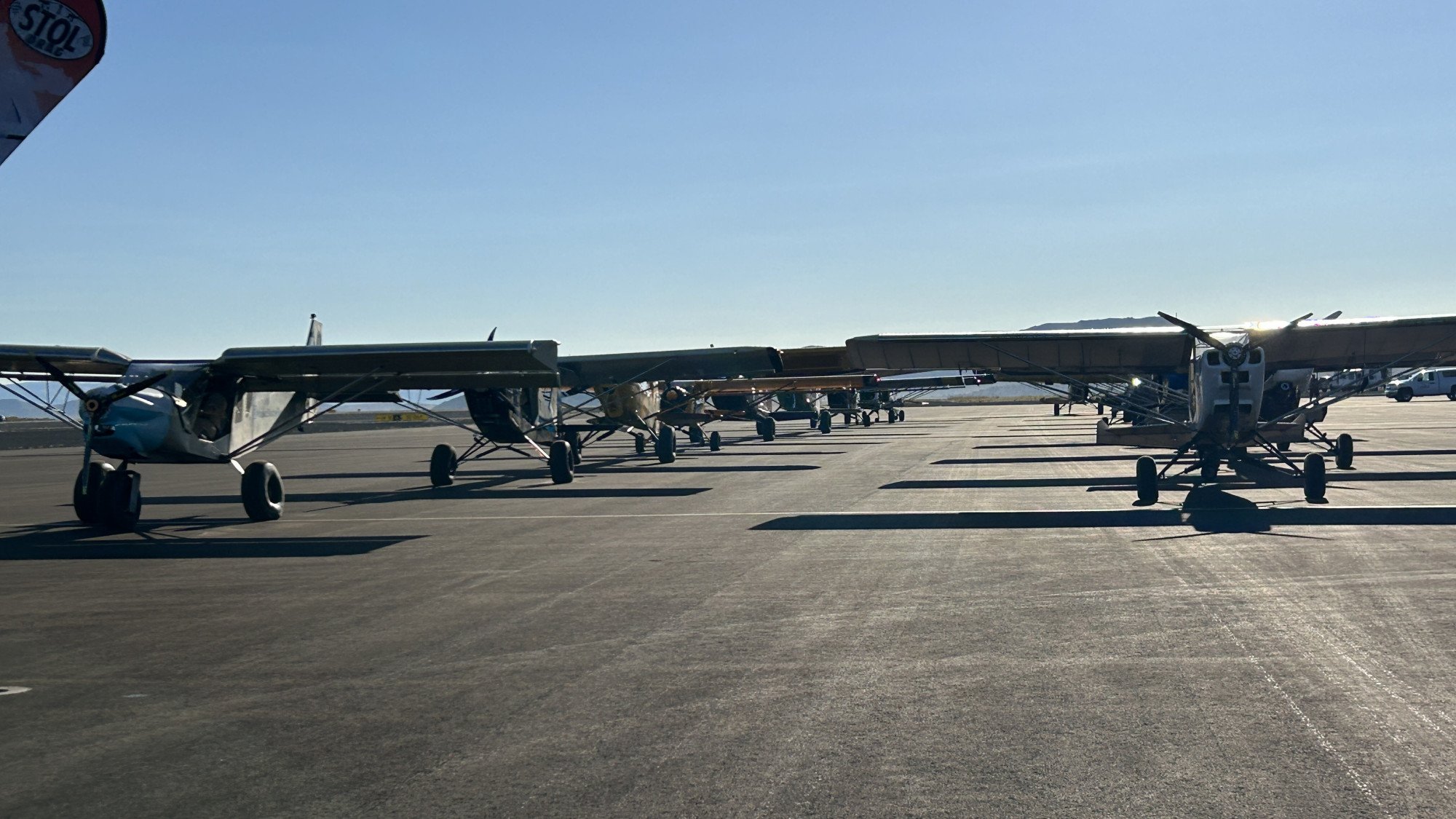 STOL Drag Planes staged ready to taxi to the course for practice.
Among the notable head-to-head practice matchups #27 Harry Beaupre, flying "The Spirit of Louis," a 2020 Kitfox 4, faced off against #4 Ryan Bowen of Project Kitfox in his #4 STOLFox. Although each of them secured one victory, with each pilot scratching once during the two rounds, their times indicated a mere 1-second difference.
It was a showdown between those Zany Zeniths! Justin "Bruno" Tisdale in his #18 Zenith 750, "MoosestacheFlyer" and #66 Jon Hakala in his Zenith 701, "BIG Tuna" are the only two nose-wheel airplanes participating in the Reno STOL Drags, and these two pilot's personalities are as big as their airplanes are boxy and we love them for it!
See it here:
We are eagerly anticipating the battle between the Cessna Skywagons, piloted by #46 Warren G. and Ty Burlingham's #20 "The Red Wagon."
Watch Out Steve Henry, They're Coming For You! The Ones To Watch...
Eddie Sanches' #48 Devil Girl II has been the center of attention, a 2023 Just Aircraft Highlander XL equipped with a Yamaha 998 Turbocharged engine boasting an 84" NR 4-blade prop, slats, VG's, and Dynon HDX avionics, making its race debut. Eddie secured 3rd place in the 2022 STOL Drag races at Reno. Devil Girl II is showing great promise, having shaved off 4.13 seconds from his best run last year during practice.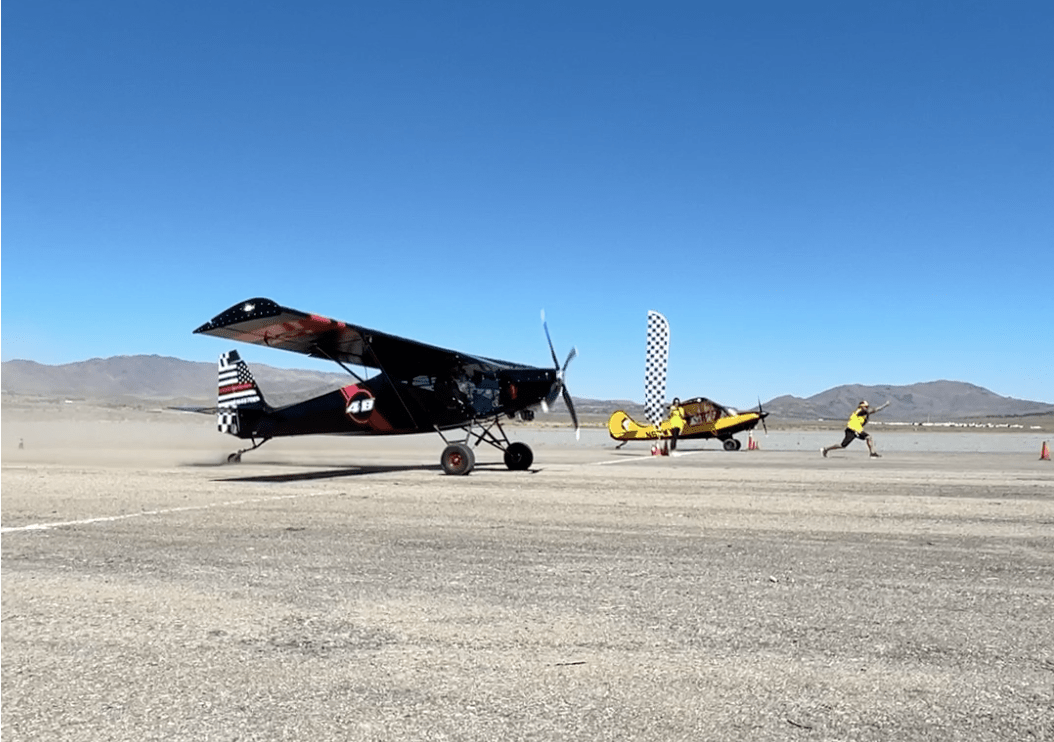 Eddie Sanches lines up his #48 "Devil Girl II" against #62 Austin Clemens in his Aviat Husky, "The Dog"
Tim Schelhorn is back in "Psycho Billy," his 2021 Cubcrafters Carbon Cub, he's dialed in and is ready for a STOL Drag battle, shaving almost 7 seconds off his 2nd place run from last year, where he narrowly missed the first-place spot, which went to fan favorite Steve Henry by just 00:06.25.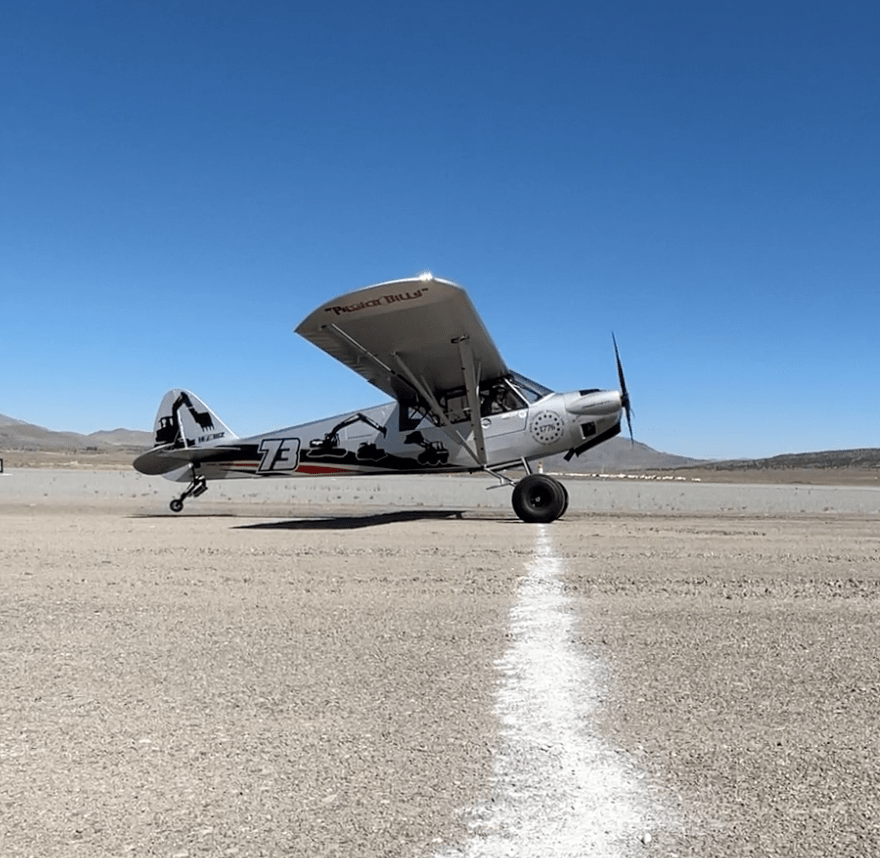 Tim Schelhorn's #73 "Psycho Billy" a Cubcrafter Carbon Cub EX2
While the competition appears to be closing in on him, Steve Henry unveiled his Wild West Aircraft- Just Aircraft Highlander XL, Yeehaw 8 earlier this year, hinting at some undisclosed modifications. Transitioning from the Yamaha Apex 4-cylinder to the Yamaha Sidewinder, a 3-cylinder turbocharged engine (both snowmobile engines), Steve is now pushing upwards of 350hp from his engine.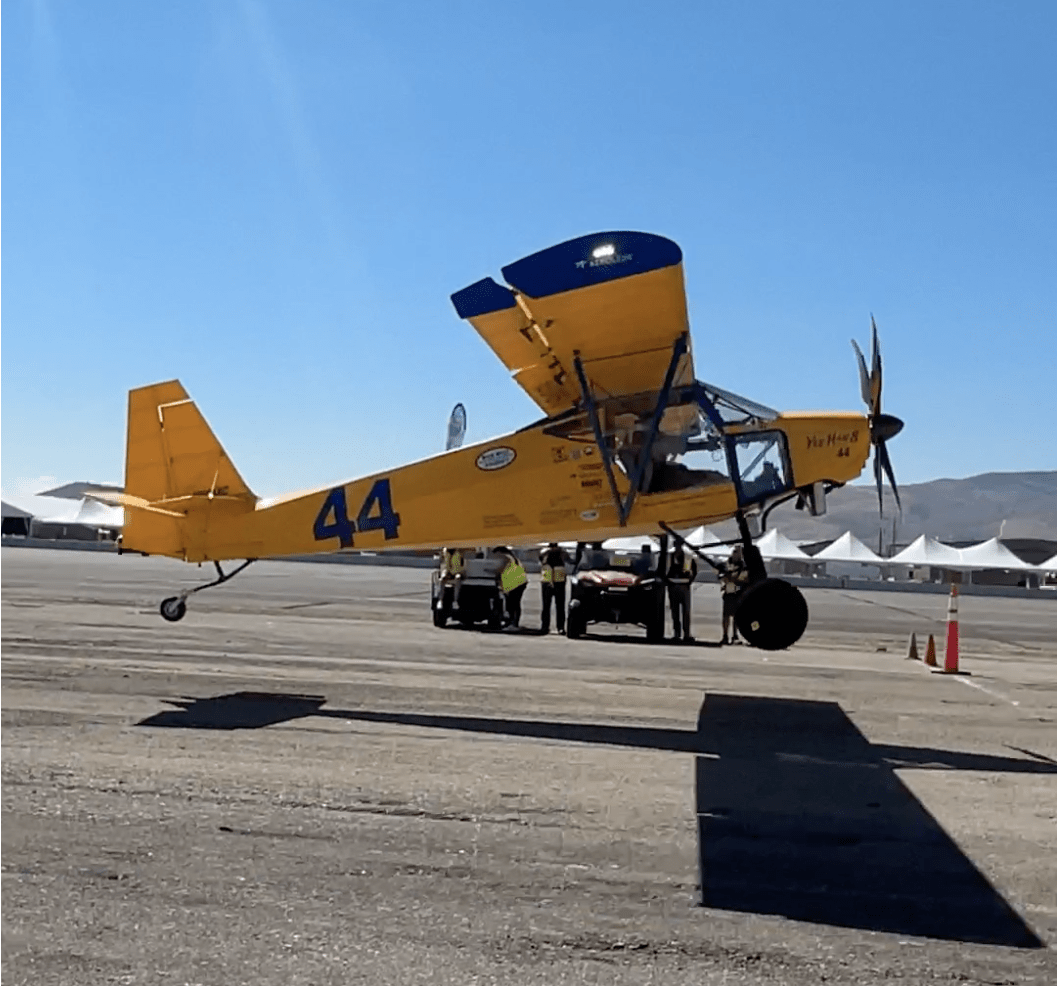 Wild West Aircraft's Steve Henry coming for the finish during practice run in his #44 Yeehaw 8, a Just Aircraft Highlander XL
We suspect these competitive pilots have a few other tricks up their sleeves in terms of undisclosed airplane modifications, and we can hardly wait to see who emerges victorious at STOL Drag, The Last Flag at Reno!